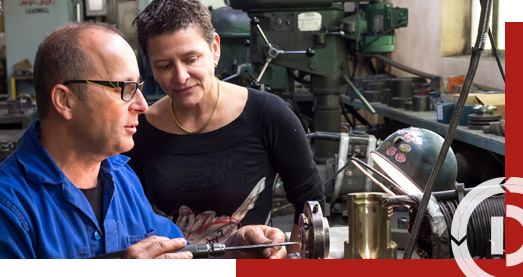 Recognized as a Specialist in the glass industry, the DIVERRE group is able to intervene at every stage of life of a glassware mold, whether it is in the design, manufacturing or repair. This allows our glassware and crystal glassworks' customers to permanently benefit by the technical solution that best fits their needs and constraints.
Some clients send us models of their products built by a designer. We are equipped to digitize and enter the points into the CAD software.
Other customers send us a paper layout or computerized file of the bottle with the IGS format that constitutes the 3D shape.
Exchanges can take place, and in particular concerning the question of mold relief, industrializing this operation for the glassmaker.
The resulting file is treated with Delcam software for the design and manufacturing of tools: 2 modules are used: PowerShape for tooling design and PowerMill for doing 3D machining.
Regarding turning operations, Spirit software is implanted at Pharmov.
For engraving and marking, Type Edit software is used.
Some machining centers are directly configured by operators in parametric programming.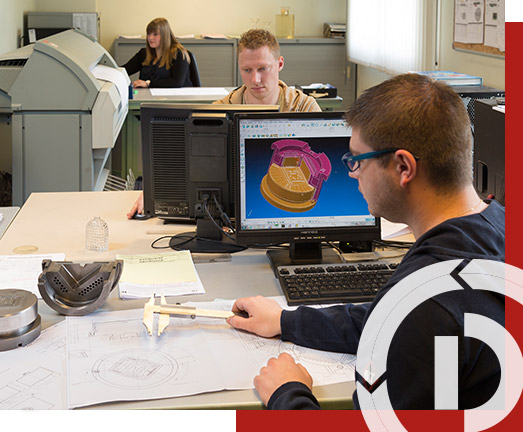 Blank molds, blow molds and accessories
For each production: adaptation and flexibility
The manufactured products are mainly blank molds and blow molds.
We also manufacture accessories: baffles, bottom-plates, blowheads and funnels (…). Baffles and bottom-plates can be built with inserts in various materials. We provide colmonoy for the matches or cavities (full profile, molds and accessories).
The standard manufacturing range for a mold or accessory is: reception of the material, machining preparation (identification, inspection), colmonoy preparation if necessary, metallizing, finishing (mold joint, profile), external operations (notches, bottom-plate relief, lugs, vents …), marking, fitting, polishing, dimensional control.
In fact, it is almost never the same mold or the same operations either, therefore requiring a high capacity to adapt and to be flexible.
The machines used can be traditional ones (milling machine, lathe, grinder, metallizing station, polishing station) or digital control (lathes, milling machines, 4 or 5 axes machining center). Knowledge of the "mold" by the operators is essential to obtain the desired quality for our customers. Beyond initial training, on the job training is long and necessary.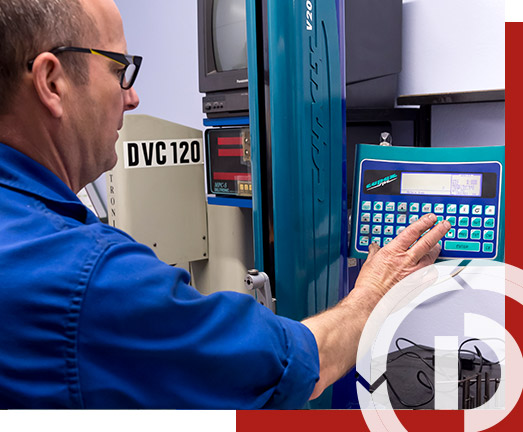 The new life of molds and metal tools
Polishing at your fingertips
REMOV specializes in polishing and finishing of all metal parts or tooling.
Since 1996, men, skills, organization and REMOV's equipment enable us to embark on an excellent quality of mechanical polishing.
Though our knowledge, we can achieve quality polishing right up to a "mirror finish". We are especially appreciated by our customers in the tableware sector and those who make bottles for premium spirits.
REMOV does all the material surfacing operations, milling (digital control), turning (digital control), adjusting and polishing. All types of repairs can be made, from the most basic (knock outs, play, polishing) to the most complex (full colmonoy, mold joint and diameter machining).
REMOV also does modifications for your round, shaped or engraved tooling.
Thus, we extend the life of your metal molds for the sake of sustainable development.
Our proximity and our logistics ensure quality, responsiveness and quick service.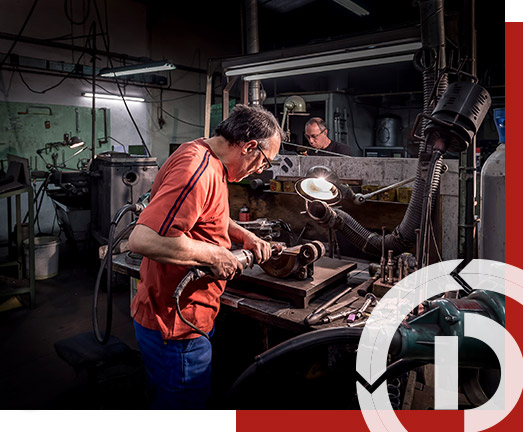 Cast iron: our principal raw material
Adapting materials to the finished product
With regard to manufacturing, cast iron is the main raw material, but some molds, depending on the finished product or process, steel, bronze, nickel alloys or even graphite are required. These types of machined materials require adapted machines and tools.
Cast iron is ordered from European foundries familiar with the requirements of glassware. The main differences in quality are with SG (spheroidal graphite) or FG (lamellar graphite). They arrive in the form of cast iron bars, half bars or casted profile
Stainless steel (Z15 , APX APX V) is supplied in bars
Bronze comes in bar form or casted profile
The nickel / chrome alloy with high hardness properties are supplied as casting or inserts
The colmonoy is done with a torch using different powders of nickel / chrome alloys
The graphite and copper are used in Electrical Discharge Machining électroérosion
Crystal glassworks may require molds in graphite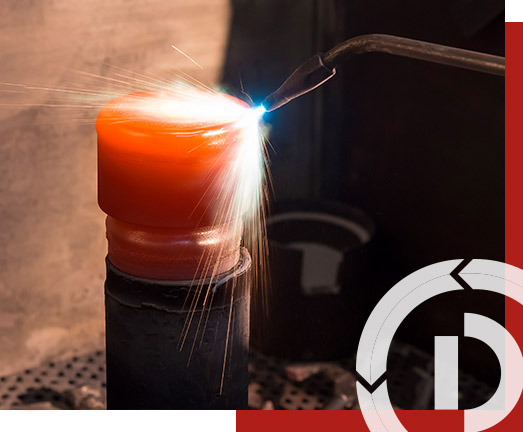 Bottles – Jars – Decanters – Crystal
Mold production and repair
Mold production:

High end perfume bottles
Bottles for the pharmaceutical industry
Jars for cosmetics
Decanters for premium spirits
Tableware (plates, glasses, dishes)
Crystal: glasses, vases, decoration, jewelry (…)
Mold repair:

All previous molds plus…
Bottles for champagne , wine, beer, fruit juice , water ( … )
Food industry jars: jam, yogurt, preserves, condiments (…)