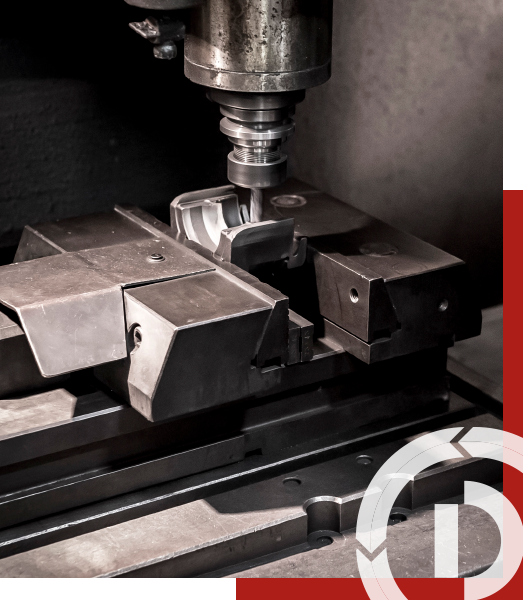 We design, manufacture and repair all types of metal molds for the glass and crystal industry.
We design, manufacture and install conveyors for the hollow glass industry (bottles and flasks).
We meet the most complex demands and accompany our customers, all along their projects with a real culture of innovation for their needs in special machines, sheet metal, mechanized welding and bespoke assembly for all types of industries: agribusiness, automobile, robotics…
Our glassware customers are the world's biggest players for perfumery and pharmacy bottles, tableware and crystal glassware. The main ones are in France, but because of our reputation, we deliver throughout Europe, the Americas and the Indian subcontinent. Quality, flexibility, responsiveness, and competitiveness inspire us every day with a spirit of progress and continuous change.
The DIVERRE Group is determined to continue its rapid growth internally or externally to become a leading player in its areas of expertise.
METAL MOLDS FOR THE GLASS AND CRYSTAL INDUSTRY
Our team is made up with experts in the glass and crystal industry, therefore they are able to help you design the molds according to your expectations.
They can also assist you in making changes to existing molds to improve their industrial performance.

We are equipped with the most modern IT tools in CAD and CAM.
Our teams of professionals are experienced and master all the manufacturing operations (turning, milling, polishing, fitting, metallizing…) molds.

Our workshops are equipped with robotic machining centers, lathes and digital controlled milling machines. To be successful in this business, you must combine experience with modernity.

Our production methods meet the most recent requirements such as Lean Management.
After being used, the molds often need to be repaired in order to extend their life expectancy, amounting to financial savings. Our repair specialists are able to rejuvenate your molds by metallizing, finding the required dimensions, polishing as required and by redoing the engravings.

This is a less mechanized work than manufacturing but requires a very good knowledge of the expectations of every customer.
CONVEYORS FOR THE HOLLOW GLASS INDUSTRY
We design and deliver turn-key conveyor systems for hollow glass, from the smallest pharmaceutical bottle to ones of a much larger dimension.

We offer all kinds of innovative solutions such as sets that manage speed differentials (synchro-variable, patented).

We also provide pallet transporting like conveyor belts for cullet.
We design conveyor lines and their principal elements (accumulation table, bridge, turner, spacer, synchro variable, transfer…) for the sake of reliability, strength and quality.

The production of sheet metal and mechanized welding are carried out carefully in our workshop. Subsets we purchase (motors, gears motor, chains, sprockets, rolls, automatism…) are chosen under our customer's demand and their quality.

We carry out blank assemblies to minimize start-up problems and to respect lead times.
Once your systems are installed, we ensure their maintenance with revision operations. We supply spare parts when necessary.

We also intervene when you modify your lines during the installation of new control machines or for any other reason.

We participate in your changes for continuous improvement.
SPECIAL MACHINES/ BESPOKE SHEET METAL AND MECHANIZED WELDING
You can call on our design office to design all types of industrial equipment you need.

We are handling (conveyors), special machine and robotics specialist. We adapt to all type of industries.
We will propose to you innovating and realist solutions. We are equipped with CAD 3D software and we will provide to you installation and execution drawings.
Our manufacture workshop in Genas, specialized in fine sheet metal, in mechanized welding and in assembly is renowned for the quality of its performances, the respect of lead time and its big flexibility.

We add to these performances, mechanical sets and automatisms from other activities of the Diverre group. The workshop works regularly and closely with our design office to provide turnkey solutions.